The auto-update feature enables the app publisher to push the update to all the Freshworks customers who installed the app to get the latest version.
How is it useful for you?
If the current live application has any noticeable issue and a fix is pushed with an update to reach all the customers and resolve the issue for them.
When an update has breaking changes (non-backwards compatible), this will help push the latest update to all the installed customer accounts simultaneously.
When having a significant enhancement or extra-ordinary redesign of the app to publish, it would help you, and the customers get the latest update to utilize these awesome enhancements of your app.
Should you opt for this feature?
Yes, it is recommended to use this feature unless it is not supported for certain types of apps or specific version updates. This feature is not available for the following apps for technical difficulties and reasons such as logical gaps:
Paid apps
Apps with changes in the installation parameters page.
We will see why these app updates are not supported in the later section.
How to opt for this feature?
It is a feature in the developer portal from where the apps are submitted to Marketplace. While submitting an update to a public app has to be enabled, as shown below. (Note the checkbox below the Add new version button)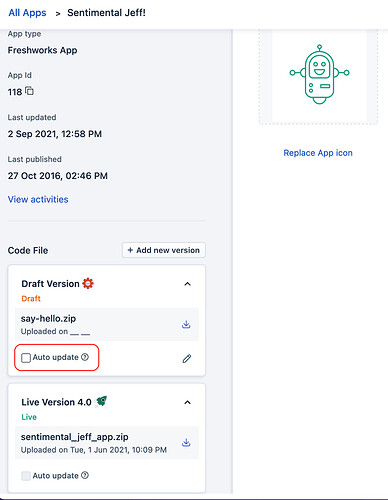 A few things to note
As soon as the app has been published in the Freshworks marketplace, the app will be installed on all the installed customer accounts.
This feature cannot be enabled or disabled when the new app version submission is being reviewed. The submission has to be cancelled to publish again with a change.
The app review time is the same for all the public apps, regardless of this feature configuration.
This feature cannot be used on the following conditions
If an app update has installation parameters page changes, this feature should not be opted-in as the customer will not get a chance to update the required installation parameters since the app is automatically updated without their knowledge.
For paid apps, the app price might vary for each version, and the customer account is charged for the previous version of the app for the whole payment cycle of the customer, so it is not possible to use this feature. Approach the respective product support to let the customer move to the new version of the app.
We hope you will make use of this feature whenever possible to let the customer use the best version of your app.