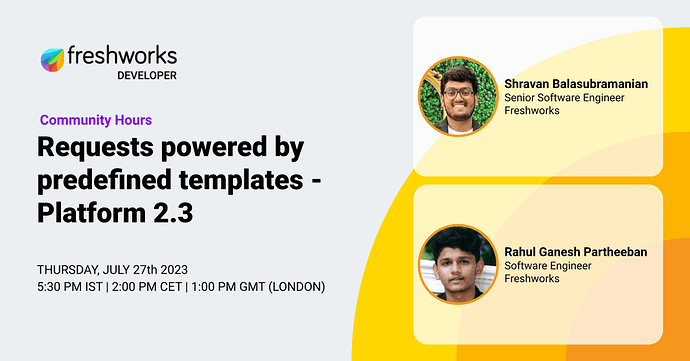 Topic: Requests powered by predefined templates - Platform 2.3
Join us for an in-depth exploration of securely making HTTP requests in the Freshworks app using predefined request templates. Discover how these snapshots can provide reliability and reusability to enhance your app's functionality.
This tech talk will delve into the reimagined request method introduced in platform version 2.3, offering predefined request snapshots that ensure extended security and reliability for your Freshworks apps.
Agenda
Creating Reusable and Secure Request Templates
Uncover interesting ways to define request templates that can be easily reused across your app, saving time and effort.
Dive into best practices for ensuring the security and reliability of your predefined request snapshots, protecting your app and user data.
Migration of your app's request methods from 2.2 to 2.3
Learn the necessary steps to migrate existing apps from platform version 2.2 to 2.3.
Understand the migration process, including constructing request templates and making necessary code changes in your app.
Q&A Session
Engage in a live question-and-answer session with our expert speakers, where you can seek clarification, gain insights, and address any queries or concerns related to the topic.
Recording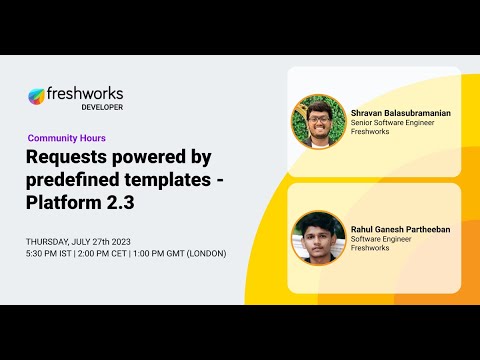 Speaker(s)
Shravan Balasubramanian - Senior Software Engineer at Freshworks [Follow Shravan]
Rahul Ganesh Partheeban - Software Engineer at Freshworks [Follow Rahul]
When
27th July 2023
5:30 pm IST (India)| 2:00 pm CET| 1:00 pm GMT (London)
Check your time zone
2023-07-27T12:00:00Z→2023-07-27T13:00:00Z
Note
You can also have your question ready beforehand, as we have a live Q&A during the session, where our fantastic DevExperts will answer your questions.
Can't attend live? You should still register. We'll share the recording after the session.
We are looking forward to seeing you at the next event!