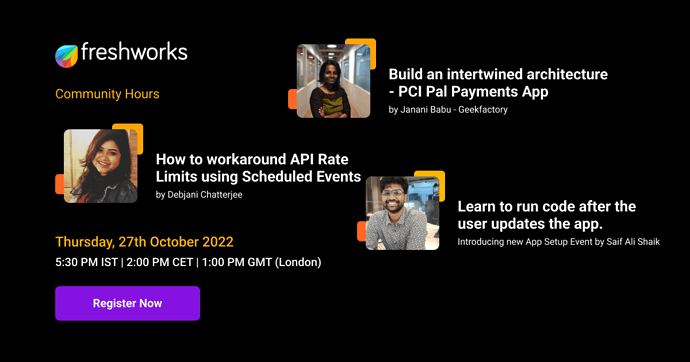 For this session, we have invited one of our featured community members, Janani Babu, a developer at Geekfactory. Join us for an engaging 'app showcase' session followed by two more interesting topics to be covered during the session.
Block your calendar - Thursday, 27th October at 2:00 PM CET to connect with fellow developers in the community!
Topic
Build an intertwined architecture - PCI Pal Payments App by Janani Babu - Geekfactory
How to workaround API Rate Limits using Scheduled Events by Debjani Chatterjee
Learn to run code after the user updates the app. — Introducing new App Setup Event by Saif Ali Shaik
Speakers
Janani Babu - Lead Developer at Geekfactory (Follow Janani)
Debjani Chatterjee - Senior Developer Advocate at Freshworks (Follow Debjani)
Saif Ali Shaik - Senior Developer Advocate at Freshworks (Follow Saif)
Recording
When
27th October 2022
5:30 pm IST (India)| 2:00 pm CET| 1:00 pm GMT (London)
Check your time zone
2022-10-27T12:00:00Z→2022-10-27T13:00:00Z
Agenda
PCI Pal Payments App showcase
What are API Rate limits
How to manipulate your app to workaround limits
afterAppUpdate
Q&A
PCI Pal Payments App: The PCI Pal Payments app allows customers to make secure payments during an ongoing call on Freshcaller. The app lets customers enter their confidential payment information via an IVR while hiding the details from the agent on call.
API Rate Limits: We often hear from the community that working with API rate limits becomes difficult to manage while building apps. However, a few workarounds can help by scheduling the requests in different time-based formats. In this session, we will take a sample app and modify it to be able to function within the limits.
afterAppUpdate: A new lifecycle event to help developers easily address incremental app configs across app versions. We have an addition to our app set-up events for the developer; it's the afterAppUpdate event. You can now use this hook to tie up any logic you want to execute after users update the app.
You can also have your question ready beforehand, as we have a live Q&A during the session, where our fantastic DevExperts will be answering all of your questions.
Can't attend live? You should still register. We'll share the recording after the session.
We are looking forward to seeing you at the next event!