**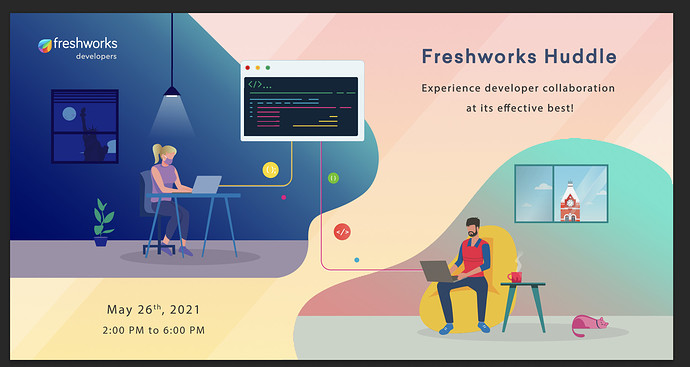 **
The whole world continues to deal with the menace of the pandemic. For those of you in India, we understand that these are truly testing times. Our heart goes out to each and every one of you and your families. Let's remember to lean on each other to get through this (and get through this we will!).
In these uncertain and chaotic times, we understand that people are continuing to juggle between their professional commitments, personal duties, and pandemic-related challenges. Keeping this in mind, we have decided to do a "mini" version of our typical Huddles - our goal is to give you all maximum value while taking the least of your time!
The Freshworks (Mini) Huddle will take place on May 26, 2021, from 2:00 pm to 6:00 pm IST, 10:30 am to 12:30 pm CEST, 6:30 pm to 9:30 pm AEST, and is open to all and free to attend.
The Lineup📜
Session
Agenda
Timings(IST)
Welcome to the Huddle! 🍄

Satwik Hebbar,
Director of Engineering,
Freshworks

We'll kickstart with making sure that you get the most out of the Huddle, walking you through the recent highlights, and sharing things we have in store for 2021
02:05 PM – 02:35 PM
Freshworks CLI for frontend JS frameworks🤾🏻‍♂️

Velmurugan Balasubramanian, Sr. Developer Advocate

We bring support for frontend frameworks within Freshworks CLI. Tune in to know how React and Vue can be used to build Freshworks Apps!
02:35 PM – 03:35 PM
Break / Fun Activity 🙇‍♀️
Virtual event bummer: There will be no sandwiches and coffee. Regardless, we thought you could still use a break.
3:35 PM - 3:45 PM
The landscape of Developer Platform🚴🏼‍♂️

Ganesh Balaji Lakshmanan, Sr. Product Manager

Along with a lot of changes happening this year, join to take a sneak peek into our Product Managers' thoughts on what is coming up this year!
03:45 PM – 04:25 PM
Best practices for serverless parts for your next App

Raviraj Subramanian, Sr. Developer Advocate

There is always room to optimize your app to make it more powerful and maintainable. Let's learn some practices that can help you become a seasoned developer!
04:25 PM – 05:10 PM
Minnal Talks

Minnal talks are presentations from the community for the community. Developers share challenges & limitations and how they've overcome some of those.
05:10 PM – 05:50 PM
Can't make it? Register anyway, and we will send over the recording as soon as it's available.