Presenting the community champions of Q1 2021🎖
At Freshworks, we are all about recognizing and rewarding amazing contributors who regularly inspire and engage others in the developer community. In that spirit, we are happy to announce the Community Champions of Q1 2021!
Top Contributors of the Community!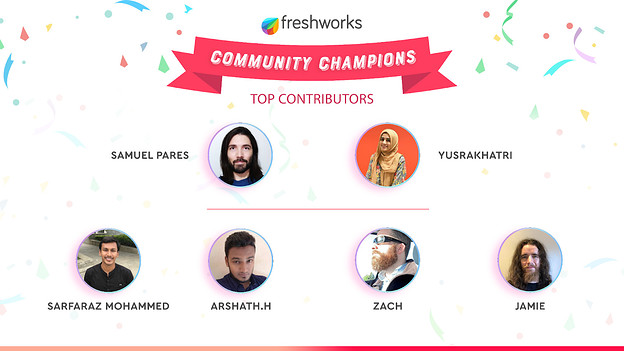 As the title suggests, top contributors of the community are those who make the best efforts to share their knowledge with other developers and have contributed to the developer community forum via forum posts, solutions, engaging discussions, and feedback related to the developer platform. Please join us to applaud @samuelpares @yusrakhatri @sarfaraz_Mohammed @arshath.h @Zach @Jamie for their contributions.
Fantastic Frontliners 🏋🏻‍♂️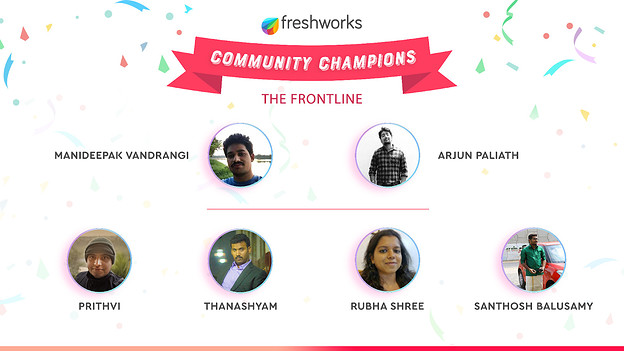 Our 'frontline' consists of Freshworks engineers and experts who go the extra mile to help app developers make the most of the resources and support on our platform. Here are our Fantastic Frontliners for Q1 2021: @ManiDeepak_Vandrangi @Arjun_Paliath @prithvi @thanashyam @Rubha_shree @Santhosh
Kudos to you all, and we hope you enjoy the little presents that we'll be sending your way as a way to tell you how much we truly appreciate your efforts!
Does this inspire you to be a Freshworks Community Champion too? We are always looking for more volunteers to help their fellow developers with their queries and share their valuable feedback with us. (You'll also get a chance to win exciting prizes in the process
)
Cheers