Presenting you the champions of this quarter🧗‍♀️
Freshworks Developer Community Champions are those who have contributed to the developer community forum via solutions, engaging discussions, and feedback related to the developer platform. Time and again, we see great community contributions from Freshworks developers willing to share their knowledge with others everywhere from our forum to virtual events like Huddle.
We are really excited to announce Q4 Community Champions @samuelpares @arunrajkumar235 @Arjun_Paliath @kishore @Marllon_Mainardes @Zach. Kudos to you all!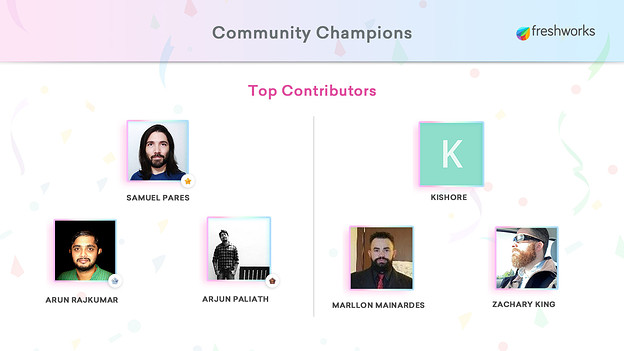 Meet the Fantastic Frontliners
Our 'frontline' consists of platform engineers and experts who go the extra mile to help the app developers succeed on the platform. We take a moment to recognize the top contributors @ManiDeepak_Vandrangi @prithvi @Chandiramouli_Ramach @Sathishkumar @rohith.jayaraman @Gopinath_Radhakrishn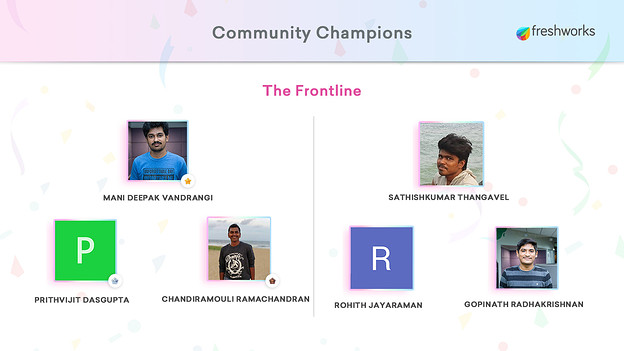 A huge congratulation and cheers to our Q4 champions.
We truly appreciate your efforts and what each of you has done to help us grow as a community, and hope that you will continue your useful contributions to the Freshworks Developer Community. We would also like to invite more folks to come forward and volunteer by helping fellow developers and giving feedback - you'll also have fun and win exciting goodies in the process
Cheers🥂