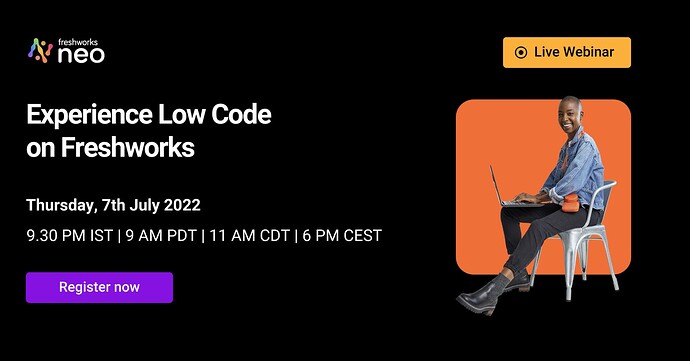 Join us for an exclusive webinar on the 7th of July, where we talk about what we are building and how low-code app development can be a game-changer for your business. We will also take you through a hands-on demo of our platform and show you exactly how to go about building your first app on Uiflow in a matter of minutes.
Topic
Introducing Low Code on Freshworks Developer Platform, powered by Neo.
Recording
Speakers
Ganesh Balaji - Product at Freshworks (Follow Ganesh)
Brian Lichliter - Product at Uiflow
When
Thursday, 7th July 2022
9.30 PM IST | 9 AM PDT | 11 AM CDT | 6 PM CEST
Check your time zone
Agenda:
What is Low Code on Freshworks
How does it help you
Capabilities/functionalities that you can expect from our platform
Types of apps you can build
A hand-on demo from the Uiflow team
Freshdesk and Freshservice customers can now sign up for Beta access to our Low Code platform. Sign up for Beta here: Low-code
Learn how you can build enterprise-grade apps for your business and customers using Low Code in the exclusive webinar.
We will also have a live Q&A session right after the session, where our experts will answer all your questions related to app development using low code.
Poll
Participate and share feedback. Click here
Looking forward to seeing you live on the 7th!