I published a custom app yesterday in Freshcaller and until now he still with status "Publish in progress".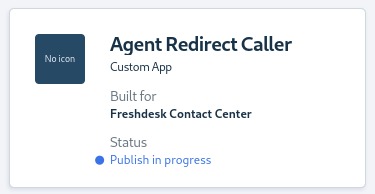 Hi @Matheus_Nunes,
Can you provide the App ID?
We can check from our end what went wrong and why the app is stuck in this status.
Hi
Here's the app id
52210-agent_redirect_caller
@Matheus_Nunes,
There is a bug on our platform, we are working on the fix and will keep you posted once it is fixed
Thanks
@Matheus_Nunes The bug causing apps with actions to fail to publish has been fixed. We have also moved your app back to the Draft state.
Please try publishing the app again and it should go through now.
This topic was automatically closed 6 days after the last reply. New replies are no longer allowed.