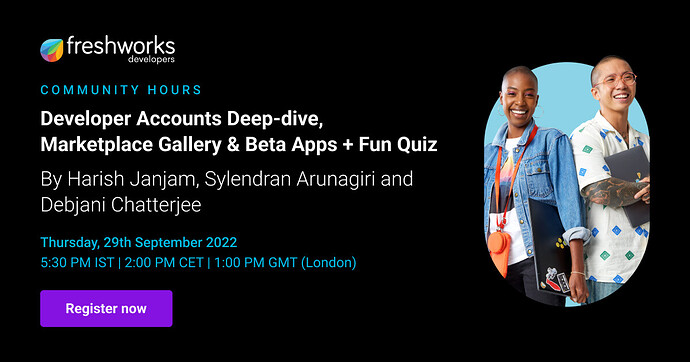 Join us LIVE to see what's new with the Developer Account signup & Marketplace Gallery. Get a sneak peek into our roadmap for Beta Apps. Block your calendar - Thursday, 29th September at 2:00 PM CET to connect with fellow developers in the community!
Topic
Developer Accounts Deep-dive, Marketplace Gallery & Beta Apps + Fun Quiz!
Speakers
Debjani Chatterjee - Senior Developer Advocate at Freshworks (Follow Debjani)
Harish Janjam - Product Manager at Freshworks (Follow Harish)
Sylendran Arunagiri - Product Manager at Freshworks (Follow Sylendran)
When
29th September 2022
5:30 pm IST (India)| 2:00 pm CET| 1:00 pm GMT (London)
Check your time zone
2022-09-29T12:00:00Z→2022-09-29T13:00:00Z
Agenda
Developer Accounts Deep Dive
Beta Support for Apps + Marketplace Gallery Revamp
Fun quiz - Let's find out what you know about Entity Storage (cool swags for the top 3 winners!)
Q&A
Recording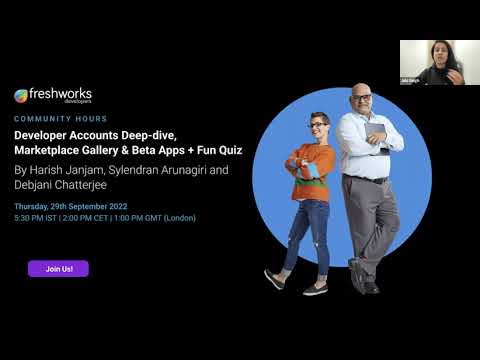 We will cover the much-awaited Developer Accounts and how you can login and set up one. We will also talk about the product roadmap, which includes the launch of beta apps which now gives the complete power in the hands of the developers for testing and Q&A for unpublished apps and more.
We will showcase the revamped Marketplace Gallery and how you can access it.
We've planned a fun quiz towards the end and a few giveaways in store for the winners. Don't miss out!
Congratulations Entity Storage Quiz Winners!
Samuel Pares
Pavithra Selvaraj
Suman C
Q&A
Q1: When FDK 7 is deprecated, does this mean that custom apps installed in the customer's environments will stop working? Or does it just mean that it isn't best practice to use FDK 7 anymore?
A1: Thanks for asking. The apps built with FDK 7 will continue working. You will, however, be expected to use a more recent FDK version if you plan on updating the app. So this is more of a backward compatible change that is trying to take us into the future.
Q2: I had signed up for the dev acc and I am the org admin. If a resource from my org wants to sign up - will there be any approval process or…?
A2: Your resource needn't sign up again. You can add your resource as an admin user to the product account and they get to access the developer account. We are working to bring an add user section under the developer accounts soon.
Q3: What process does FW follow to verify apps?
A3: Our public apps goes through code, content & security testing before getting published in marketplace. As a developer, if you publish a public app it gets verified and hence the tag. We will share the detailed process of each of these steps as a wiki + documentation page soon. We have a brief insight into that here - App review process and listing apps on Freshworks Marketplace
You can also have your question ready beforehand, as we have a live Q&A during the session, where our fantastic DevExperts will be answering all of your questions.
Can't attend live? You should still register. We'll share the recording after the session.
We are looking forward to seeing you at the next event!