Hi,
Recently we tried to log the ticket details using the data methods and found that it returns the wrong data.
We even deployed the app and tested it but still the same.
The ticket ID is #INC-2091 and this is the payload returned by the data method.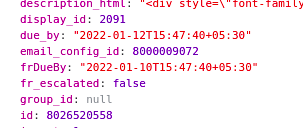 Id and display_id are swapped.
The documentation says that the ID property holds the id of the ticket.
Now, may I know what's going wrong here? or am I missing anything?
Thanks in advance!