Hi Everyone,
We are unable to use contact APIs on the FreshSales landing page. We are facing the CORS policy blocking issue.
Please guide us to fix the below error.
Error:-
Access to XMLHttpRequest at 'https://identifyou-602451323951554045.myfreshworks.com/crm/sales/api/contacts/402029278363' from origin 'https://wvdxas5k.fwfmsites.com' has been blocked by CORS policy: Response to preflight request doesn't pass access control check: No 'Access-Control-Allow-Origin' header is present on the requested resource.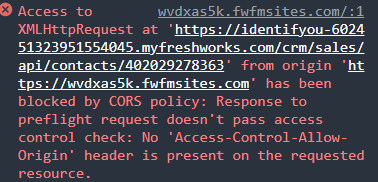 Thank You.