Hello! Just a quick question. Is there any way to "reset" the File Uploader component? Either through HTML or any other way.
The thing is that after uploading the files to the server, the UI stays the same (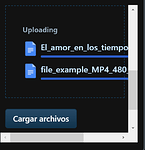 ), and is rather bothering to my users. I'm also trying to reset it through a button because I'm building something similar to a form in a custom app and I have a "reset" button that clears the rest of the input fields, but I haven't found a way for it to do it to the file uploader component.
Thanks in advance for your time and help