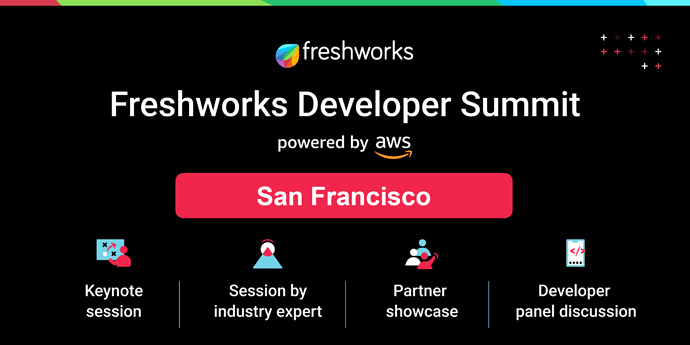 This year over 150+ people joined us offline at the two Freshworks Developer Summits that happened at the AWS office in Bangalore, India, and the AWS startup loft in San Francisco, USA.
During the summits, we brought the developer ecosystem together under one roof to help them understand the Freshworks Developers platform better and also to help them gain some practical knowledge from industry leaders. The sessions at both summits were custom designed to assist both new and experienced developers in accessing dev tracks, keynotes, expert showcases, hands-on labs, and workshops. Overall, both editions of the summit received an overwhelming response from the Freshworks developers, independent developers, SI/ISV developers, customers, and partners.
Missed the Developers Summit in San Francisco?
Don't worry we've got the event highlights right here for you, with all the major updates!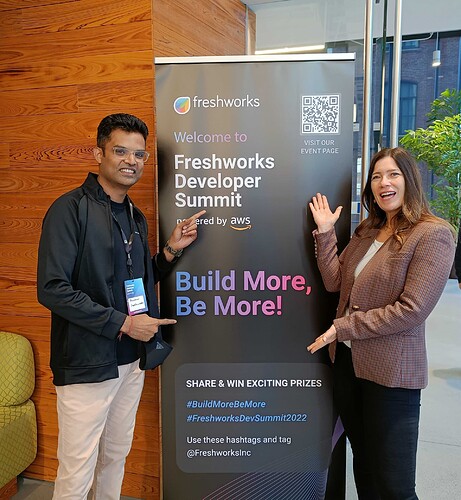 Here's to good old in-person conversations!
2022 Developer Summit Highlights:
Around 20+ folks from our customer and partner community attended the event and interacted with people from the Freshworks development, engineering, product, and marketing teams. The event not only enabled the audience to connect with experts from Freshworks but it also helped them to directly share feedback with key stakeholders.
The summit kicked off with a Keynote session by Freshworks CIO, Prasad Ramakrishnan, followed by a fireside chat, partner session, a developer case-study showcase, and an introduction session to kickstart building apps on the Freshworks Developer Platform.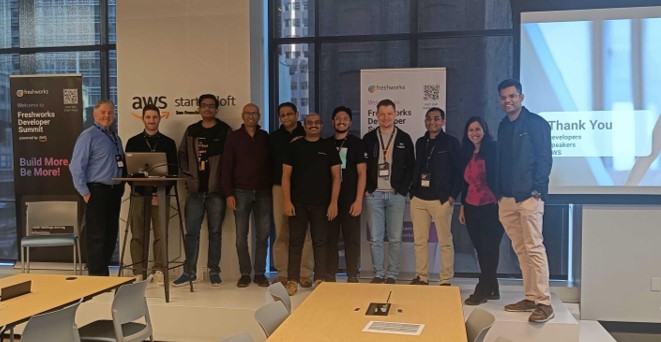 Summit Tracks/Sessions:
Keynote by Freshworks CIO, Prasad Ramakrishnan
Outline: Freshworks CIO, Prasad Ramakrishnan, kicked off the 2022 Developers Summit in San Francisco with a keynote session introducing the participants to Freshworks, the current customer portfolio, and the role developers play in building custom apps that deliver a delightful customer experience.
He also addressed how 2023 promises to be both an exciting and challenging year for IT leaders as large incumbents are looking for technology to be as dynamic a force in their business as it is in so many of the start-ups.
According to Prasad, in order to deliver value to the business, CIOs need tools that enable them to rapidly prototype solutions that:
Deliver quick solutions to get away from manual and excel based solutions,
Make IT Invisible by enabling business ops teams to be self-sufficient and,
Enable rapid time to value and time to market with no need for training or onboarding
The conversation ended with Prasad highlighting how Freshworks makes it easier for customers, partners, and developers to build custom applications that deliver business value.
Session slides:
Prasads Keynote_Freshworks Dev Summit - SF 2022.pptx.pdf (2.5 MB)
Fireside chat with Tejas Bhandarkar and Stacey Epstein
Outline: The keynote session was followed by a fireside chat between Tejas Bhandarkar, Vice President - Freshworks Neo, and Stacey Epstein, Chief Marketing Officer - Freshworks. While the keynote addressed what's on the minds of the CIOs, this fireside chat solely focused on what 2023 could look like for developers.
An interesting conversation followed that saw Tejas deep dive into how developers could use the Freshworks Developers Platform to:
Solve business problems and deliver a better customer experience
Manage computing & infrastructure without struggling with resources & troubleshooting
The Firechat ended with Tejas highlighting the building blocks and the future roadmap of the Freshworks Developer platform.
Session slides:
Tejas-Stacey.pdf (470.5 KB)
Partner Session by Vamsi Vikash Ankam, AWS
Outline: The fireside chat was soon followed by a partner session by Vamsi Vikash Ankam, Senior Serverless Specialist - AWS. Vamsi opened the session by discussing the amount of time developers spend on the operations and maintenance of applications as compared to the actual time spent on innovation. He then went on to highlight how many developers are now adapting to the serverless-first strategy that is not only saving time and costs but is also enhancing performance and security.
Touching upon what the future holds for the developers, Vamsi ended the conversation by mentioning the key benefits of leveraging Serverless and how it could translate to an overall better customer experience.
Session slides:
Building serverless workloads and architectures_V2.pdf (4.6 MB)
Fireside chat with Avinash Shahdadpuri & Satwik Hebbar
Outline: The Serverless session was soon followed by a Fireside chat between Avinash Shahdadpuri, Co-Founder & CTO - Nexla, and Satwik Hebbar, Platform Engineering - Freshworks Developers. During the session, Avinash introduced Nexla and fielded several questions about data and the challenges around data fragmentation and data disparities. He also further emphasized the different ways developers could deal with data fragmentation in modern enterprises using APIs and low-code.
Developer introduction to the Freshworks Developer Platform
Outline: The highlight of the day had to be when we had an opportunity to let the participants test the look and feel of the Freshworks developer platform. We helped them set up their dev accounts and explained how to solve business problems based on the app distribution model that works for a specific use case.
Freshworks Customer & Partner Showcase
Outline: Freshworks partners play a key role in the overall success of the company. After lunch, all the attendees gathered together to learn more about how AMEX collaborated with Nexla - a Freshworks customer to overcome a key business challenge.
Session slides:
Nexla -GBT-FW slides.pdf (1.4 MB)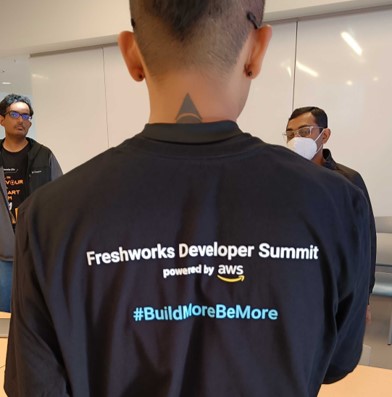 Fireside chat with Alexander Vladimirov & Satwik Hebbar
Outline: The developer summit in San Francisco was brought to an end with a panel discussion between Satwik Hebbar and Alexander Vladimirov, Senior Solutions Architect, Serverless at Amazon Web Services (AWS). During the discussion, Alex and Satwik primarily discussed why developer experience will be the ultimate platform differentiator.
Partner Testimonial
Thank you to everyone that visited us at the Developer summits in 2022. It wouldn't have been such an incredible year without you and we look forward to hosting you at more events in the future.
In case you missed our Developer Summit - Bangalore Edition wrap-up post, click here: