Hello everyone!
Hope you're well and had an amazing year. 2021 is almost over and a fresh new beginning is already knocking on the door. From helping us condition to the new normal to opening up amazing opportunities for everyone to grow, Freshworks has made it count for us in ways more than one. Let's take a moment to reflect on the journey so far.
Here is the Pop Quiz of the Month🤫

Why do programmers eat so many carrots?
Highlights of the month⚡️
Low Code:
Solve business automation and customization challenges with minimal or no coding. We are proud to introduce you to low-code app development to make your life easier on our platform. Grab your place in the Early Access Program.
Updates to our Terms of Use:
As the Freshworks' developer community expands and grows worldwide, we continue to enhance our offerings. In doing so, we updated our Marketplace Terms of use to reflect these changes
Meet the Champions🏆
Refresh App challenge winners: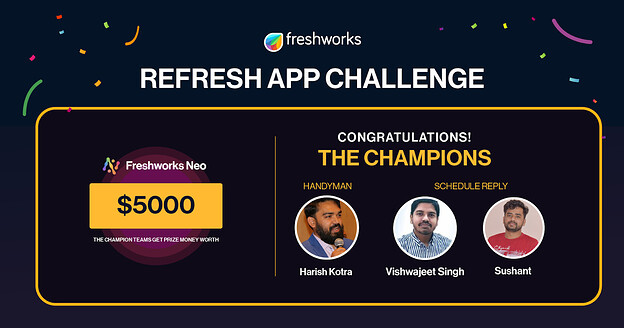 We are super excited to present to you the #refreshappchallenge2021 winners.
The Champions Sushant Awalekar, Vishwajeet Singh, and Harish Kotra will be taking home $5000 for their award winning projects - Scheduled reply and Handyman, respectively. Want to see the complete list of projects and winners?
Community Champions:
Hark! We have the Community Champions of Q3'2021. At Freshworks, we are all about recognizing and rewarding outstanding contributors who regularly inspire and engage others in the developer community. A massive shout out to all our community contributors. .
Here's our awesome community camps of Q3 2021
Pro Tips
Oh, are you still scratching your head for that answer?
because carrots help them C better!
Help us help you!
Thoughts? Comments? Feedback?
We'd love to hear everything from you. Write to us.