Hi there! I've to create a brief integration via API (the API library of the Freshbot) between Freshbot and Freshchat.
The Freshbot is already implemented in Freshchat, but what I've to do is create a API (in the bot) that will make a request to the user API in Freshchat, updating the custom properties of that user with some info of the same. Like so:

The problem is that I can't get the user's id in a dynamic way. Thought I could use the "Customer's Id" parameter in freshbot as shown above (I don't know if that is a native parameter), but it doesn't work. I also send that parameter to a webhook *(webhook.site)*and it's data was empty.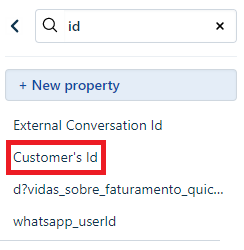 This is the parameter.
How can I get the current user's id automatically? Is it possible to do that in Freshbot?
Thanks!