Hi team,
Greetings!
Is there any API to fetch the time entires fields in Freshservice?
Thank you.
Please check this documentation: https://api.freshservice.com/#list_all_ticket_time_entries
Hi @akash.pagare,
I'm looking for a fields API for the time entry like we have for ticket fields.
We need the fields type, name and choices of the timer fields.
Kindly help us out here.
Thank you.
Ok let me check on this. Will get back to you If I found something relevant.
No @Saif
I was expecting API like ticket_fields for the time entry
@Bene_Immanuel - We haven't found a similar API for you. Hoping there could be a workaround, I put you in touch with the Freshservice Support team to take this conversation further.
Freshservice Support:
We don't have the functionality you requested with Freshservice APIs. Currently, the only way to get the Time Entry fields would be to GET them from existing tickets using the API you mentioned. Service Desk API for Developers | Freshservice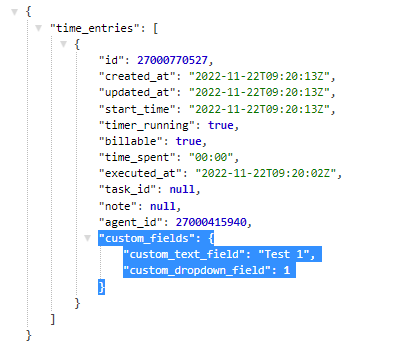 We should raise a feature request for this, Benny. The request will be evaluated based on some of these parameters:
-The technical feasibility of building the feature.
-The demand for the feature.
-Alignment with the current product road map.
We have reported this ask to our product teams, @Bene_Immanuel . However, at the moment Freshservice Support's response should be treated as status quo.