Hi,
In Freshsales product (chrome browser), when I looking into the download issue of our IPaaS app, I found that export button is also not working in logs section of marketplace app.
I got the below error in browser console when I click export button in logs section of marketplace app:
Download is disallowed. The frame initiating or instantiating the download is sandboxed, but the flag 'allow-downloads' is not set. See Download in Sandboxed Iframes - Chrome Platform Status for more details.
When I inspect current page, what I found was:
…iframe id="marketplaceGalleryIframe" class="marketplace-gallery-iframe" iframeborder="0" sandbox="allow-scripts allow-top-navigation allow-popups allow-modals allow-same-origin allow-forms" src="https://freshsales-231259.appgallery.freshworks.com/marketplace?params=d43dffc518cee66024fcc0bc7a42eff8caeff3061a3746a6e060597cc36abeb2a61af04125656f95b2fe98b611f168e854a57e5d5a65ec8290b7b0b97dbee290387db5b01b44dd8d13b262d01ffa873975a7878781a89f07834ef0b09e62479b8368c6178ff24be7e9284a88e825ef6e1b457e233f24bb12789b3207934b3d8b74188a815e4606e81799965564dd78d137cbe169c4779f333e4f4fc9f77583b2a9b12ac3239f95e73b07337197f53a9a677536acf87e4c64c0c62f400afa2d879ce58a51057efe5a1a63aa7729b8ad9f83a33be980b4607e92dfca32a16a73a088beec1e091302b54757eefd33da5c12cce19d654b449d75c0bab1ab195d695c5d88f9b9c6c4bc6d47ca040a5e67e880b684c609ad0c10f5096d4c2e048c097777623a3dd58d7ce6dcc17545589e8d5616b0b7435fcfd0d5adac394b491819116d30986f4fafed42cd15ddd39aa7811b8a1a113a0e8bbe9954499204caaedf812c7dfa5d0a3039302fab14b72aae3335844ea06d8bc1b4bb487173cba5ed66399f2b17632c57566df49ba6aedb453a4f2382766beb2eaef04356871e68c247eb09f565603bba896b&pod=poduseast1"></iframe…
In this above sandboxed iframe, download is not allowed.
Why download is not allowed here?
Findings:
In this iframe, sandbox attribute is used which impose restrictions in iframe. Here allow-downloads value is not included in this iframe so I can confirm about this by above console error.
This issue happens in chrome browser but not in firefox browser.
I think this restriction is also the reason for our IPaaS app download issue.
is this (export button not working) a bug in marketplace app?
( or )
is there a better way to add download feature in app at this sandboxed iframe?
Please find the attached screen shot here!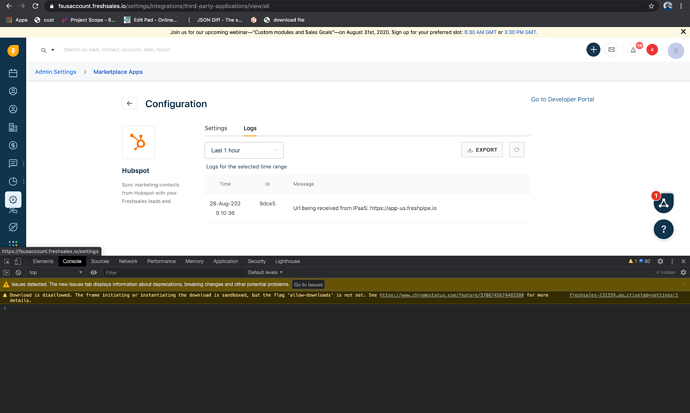 can anyone help me to clarify about this issue?
Thanks,
Sarath