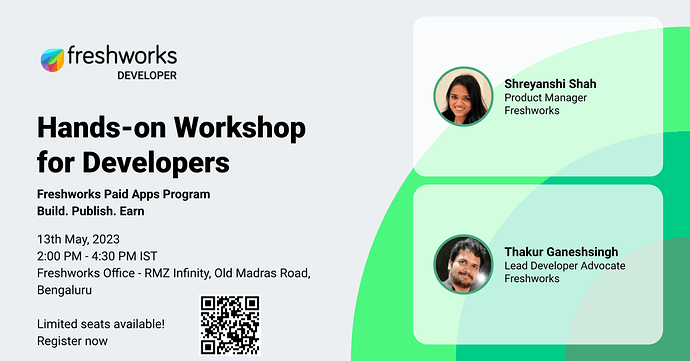 We are excited to invite you to our in-person hands-on workshop to help you get started with building Paid Apps and potentially earning up to 100% revenue on the Freshworks Marketplace*. In addition to learning how to develop apps for the Freshworks Marketplace, this workshop will also offer you the chance to network with other developers and industry experts.
This workshop is ideal for developers with intermediate to advanced coding skills in Javascript, HTML, and CSS. It is designed to be interactive, engaging, and practical, focusing on hands-on learning. You'll have the chance to work on real-world projects, collaborate with other developers, and receive guidance from our experienced instructors.
Date: Saturday, May 13, 2023
Timing: 2 PM - 4:30 PM IST
Venue: Freshworks Technologies Pvt. Ltd.
RMZ Infinity, Tower D, 7th Floor, New Indiranagar, Old Madras Rd, Sadanandanagar, Bennigana Halli, Bengaluru, Karnataka 560016.
Location pin
Overview
We are excited to help you get started with monetizing Paid Apps for Freshworks' 63,000+ customers. We've curated an engaging agenda for the workshop. Here's what to expect:

Help with the initial account setup on our platform


Step-by-step hands-on session to build a sample Paid App


Information on the test app workflow, paid app submission workflow, and the post-submission workflow


Opportunity to meet and clarify all your queries with the Freshworks team
Agenda
2:00 PM - 2:30 PM (30 mins)
Sneak peek into Freshworks Developer Platform
Business problems that the Freshworks Developer Platform Solves
Setting up a local development environment
Quick run of an app
2:30 PM - 3:00 PM (30 mins)
Types of Apps - Build apps based on your use-case
Different types of apps users can build on the platform
Sample app to demonstrate each type of apps
Freshworks developer platform capabilities and developer ecosystem
Paid apps and Marketplace overview
Quick demo of a sample use case
3:00 PM - 3:45 PM (45 mins)
Ticket auto close/Ticket summary app
Frontend: Build the UI of the app
Writing the code, testing, and debugging
Publishing the app (paid app)
3:45 PM - 4:00 PM (15 mins)
4:00 PM - 4:30 PM (30 mins)
Drive revenue from the Freshworks Paid Apps program
What's new with the Paid Apps program
What's in it for the developers
Paid apps FAQs
Pre-requisites
Please bring your laptop and follow the prerequisites to ensure you can have the best experience during the workshop:
Set up your developer account: Sign up here
Have your own GitHub account ready
Bring a Laptop with SDK installed: Follow the installation guide
VScode editor installed (optional)
Snacks and beverages will be provided during the workshop to keep you energized.
Space is limited, so REGISTER ASAP to secure your spot.
If you have any questions or need further information, please do not hesitate to contact us at [tanmay.kapoor@freshworks.com or 9717700757].
We look forward to having you at our hands-on workshop and sharing an enriching learning experience together!
Join Freshworks Developer Community
Interact, learn and share ideas with other developers, and get support from the community members - Sign up