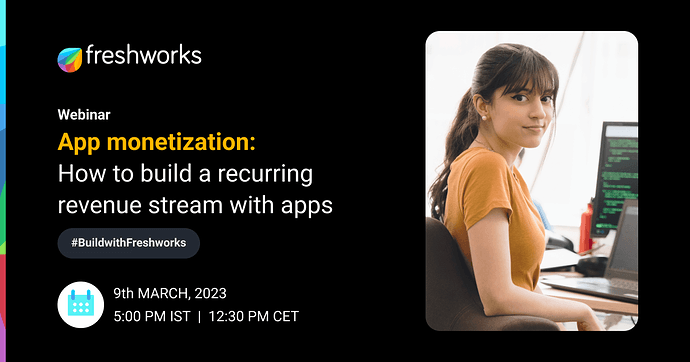 The Freshworks marketplace has over 1300 public apps built by Freshworks developers. Currently, over 60% of Freshworks' 58000+ global customers install apps from the Marketplace. With a fast-growing global customer base and the burgeoning SaaS market, there's never been a better time to become a Freshworks Developer!
Join the upcoming "App Monetization: How to build a recurring revenue stream with apps" webinar to understand how to build profitable apps that can drive a recurring revenue stream.
What's in it for you?
Understand how to grow by building apps on the Freshworks marketplace
Get a glimpse of the revenue share model and the newly introduced incentive program (opportunity to get 100% revenue)
Listen to partner developers share their experience in building Paid Apps for the Freshworks marketplace
Connect with the team and get your questions answered instantly
When
March 9, 2023
5:00 pm IST (India) | 12:30 pm CET
Check your time zone
We look forward to seeing you all at the webinar soon.