I am creating an app for Freshdesk (FDK v 8.6.7, nodejs v14.*) and am trying to install and test Axios for use in server.js.
I am using the require command as expected within server.js…
const axios = require('axios');

On testing locally using fdk run I am getting this error when I run my axios.post() command. Specifically, I am firing it on the OnAppInstall, OnAppUpdate and OnAppUninstall events.
Cannot find module '(path/path/path)/server/node_modules/axios'

Note that it is looking for node_modules inside the server directory. But when I install it, it of course goes under the root directory, as expected. I tried using cd server to install it down there, but the axios directory always appears under the root's node_modules.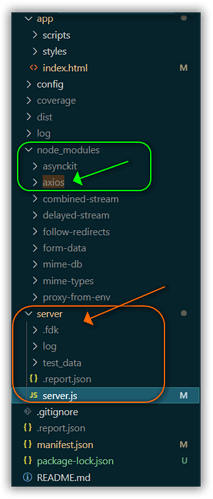 I added an empty package.json file under /server and that helped in the install, but now I get the error
Exception occured while validation: Error while parsing file containing serverless functions. Please use the exports section as recommended in the Serverless Apps section of the SDK documentation.

…which is irritating, as this NOT a serverless app.
Any guidance is welcome…