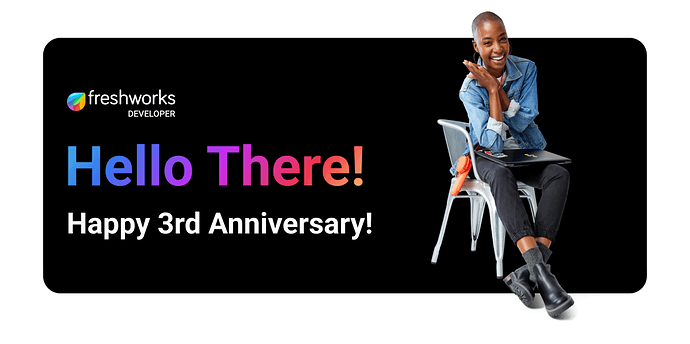 Thriving through 3 years!
It's been 3 years since we founded the Freshworks Developer Community: 3 years of innovation and collaboration!
We're truly thankful to all our customer developers, partner developers, Developer Advisory Board (DAB) members, ISVs, IAVs, independent developers, Freshworks engineers, and DevRels for your valuable contribution to the community. You've been instrumental in inspiring developers with your stories, sharing amazing resources, and making the developer community a great place to collaborate.
Here's a nice Infographic that our team put together that showcases some of our key initiatives:


Important links to bookmark:
Access wiki articles: Click here
Events calendar: Click here
Community updates: Connect category
Freshworks Community Hours 2022 Roundup: TechTalks in 2022
Digital Schwags (wallpapers, zoom backgrounds, and more!)
The Freshworks team is excited to share an array of digital goodies for you to celebrate Freshworks Community's 3rd Anniversary. Head over to Box storage to grab all goodies, including wallpapers, Zoom backgrounds, email signatures, and social frames.
Celebrate with us on social media
Celebrate with fellow developers on social media. Share your stories, favourite platform features, talk about your app, create a short video, and share using the hashtag #FRSHDevCommunityAnniversary.
Thanks again for all your contributions and support. We look forward to more exciting years ahead!