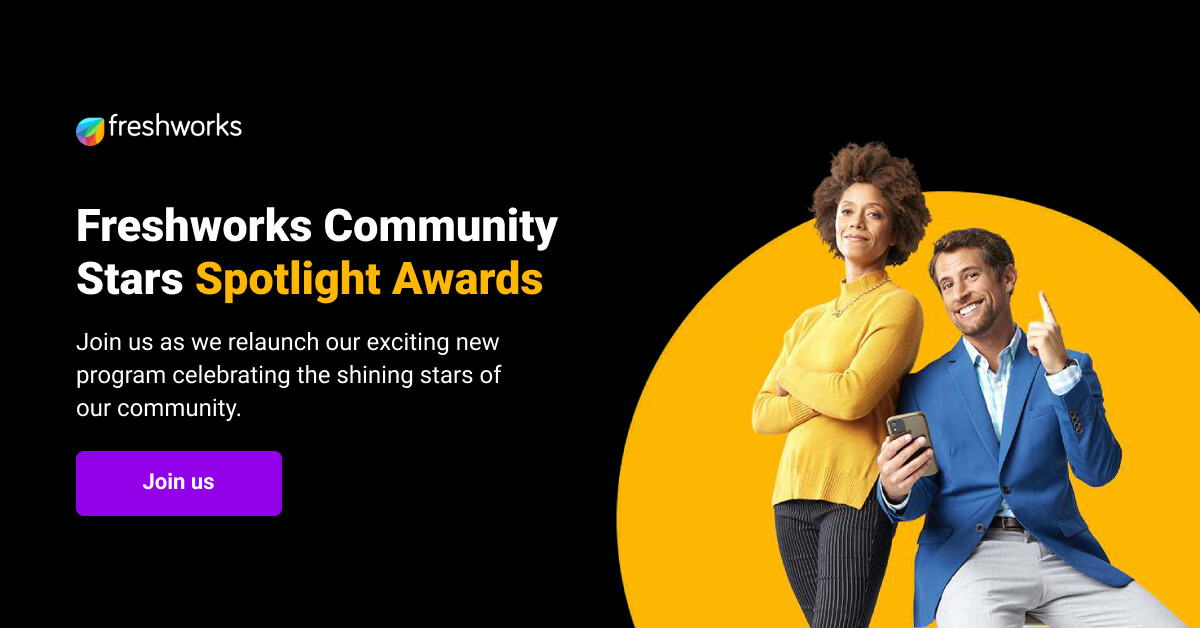 At Freshworks, we cherish and celebrate our vibrant developer community. We know that behind every fantastic app, every groundbreaking project, and every line of code is a dedicated developer who contributes tirelessly. That's why we're thrilled to re-launch the Community Stars Spotlight Awards!
Monthly Recognition and Rewards
The Community Stars Spotlight Awards are all about honoring those developers who go the extra mile to elevate the Freshworks ecosystem. It's your time to shine! Here's how you can earn points and claim the recognition you deserve:
Forum Engagement
Share your wisdom, answer questions, and engage in thoughtful discussions on the forum.

05 points per post
02 points per reply
08 points on the answer marked as solution

Dev-Assist Ticket Creation
Open assistance tickets on the dev-assist platform when you need support.

02 points per ticket

Public Speaking
Share your knowledge through webinars, workshops, or public speaking engagements.

07 points per session

Blog Posts and Tutorials
Contribute valuable insights through blog posts, tutorials, or guides.

10 points per published content

Helpful Code Contributions
Submit code snippets, libraries, or scripts that aid fellow developers.

08 points per contribution

Community Engagement
Actively participate in community events, meetups, and discussions.

06 points per event attended

Feedback and Improvement Suggestions
Provide feedback, suggestions, or ideas that enhance our community platform and resources.

04 points per idea with maximum votes  

Claiming Recognition is Simple
To qualify for the monthly award, accumulate a minimum of 20 points within a calendar month. Here's what's up for grabs:

Top Contributors of the Month (Top 3):
Be among the top contributors and earn a well-deserved shoutout!

Developer of the Month:
The developer with the highest points for the month receives this prestigious title.

Featured in Our Newsletter and Social Media:
The winner will be featured in our newsletter, and we'll give you a shoutout on our social media platforms.

Developer of the Year:
The top contributor of the year receives the prestigious "Developer of the Year" award.
Monthly Giveaways to Contributors:

First Place: Gift card worth $75
Second and Third Place: Gift cards worth $50 each
Top Contributor of the Year:

A surprise reward for the top contributor of the year!
The Community Stars Spotlight Awards are our way of saying THANK YOU for your incredible contributions to our developer community. Let's shine together!
Get ready to earn those stars and make your mark in our thriving ecosystem.

Join the Freshworks Developer Community and connect with fellow experts: https://community.freshworks.dev/