A step-by-step guide on how to set up the Freshworks developer account and unify your login experience!
You will notice the Login and Sign up button added to the existing developer landing page - https://developers.freshworks.com/


What's new with developer account sign-up?
Freshworks developer account aims at providing a unified experience to a developer for login, product account management, and app management. We are introducing a new sign-up and login experience to help existing and new users quickly get on board as a Freshworks developer and start building the apps. Support the developer platform to transform into a smart engine to cater to different personas in the Freshworks ecosystem.
Benefits of setting up the Freshworks developer account?
Ease of access to all developer resources
Sign-up for product trials from within Freshworks Developer Account
View all the apps mapped to the organization account on the App Management Portal
Navigate quickly to developer support systems from your account
How to get started?
Step 1:
Click the 'Sign-up' button on the existing developer portal: https://developer.freshworks.com. You will be redirected to a page to enter the credentials.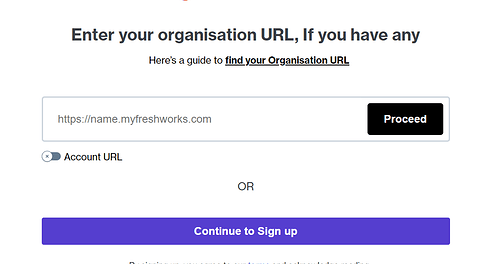 Note: If you are a new user with no existing account/org URL, click "Continue to Sign up" to get other options for registering with us.
Step 2: (Part I) New Users
New users will have to click the "continue to sign up" option, and it will take you to the next screen with two options:
Sign up with Google
When the user chooses "Sign Up with Google," users are redirected to the Google OAuth page, where they can pick their account of choice or Sign In with a different Google account.

Sign up with email
When users choose "Sign Up with email, "they must provide their First Name, Last Name, and Email ID and click the Sign Up For Free button.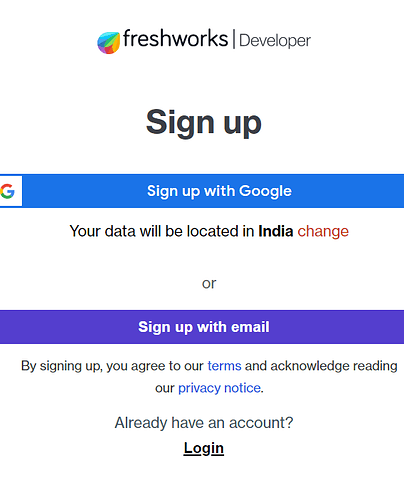 Note: If you sign up using the email option, activate it using the verification link shared with your email.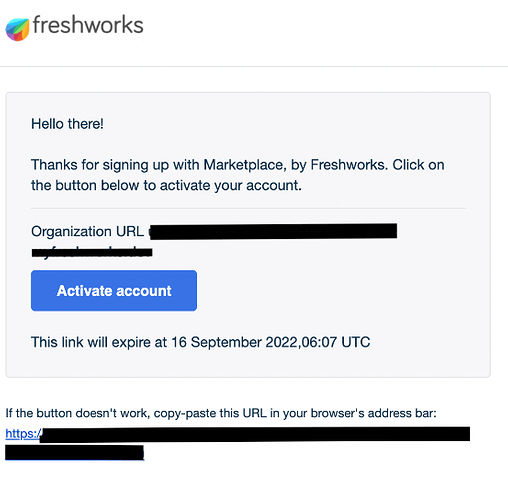 Step 2: (Part II) Existing Users
Are you an existing Developer with Freshworks? Provide your Product Account or Organization URL, and we will have you onboarded as a Freshworks Developer with all your data intact.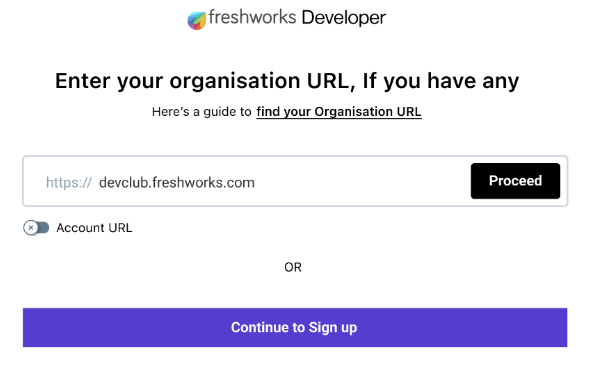 Step 3:
Take a guided tour to experience the feature-rich portal and explore all the apps mapped to your org account. Also, don't forget to add all the details to set up your developer profile on the portal fully.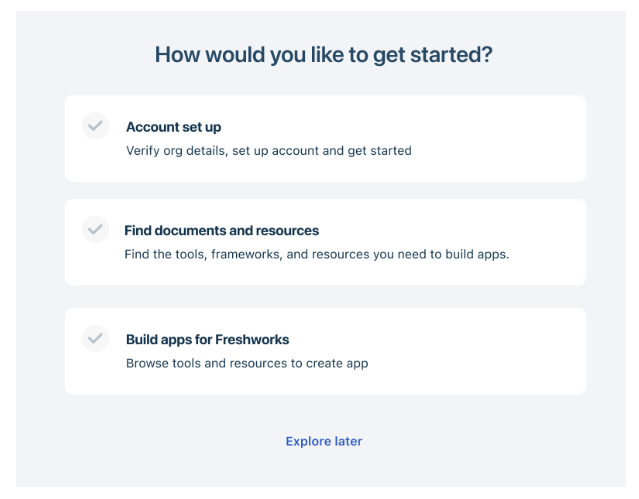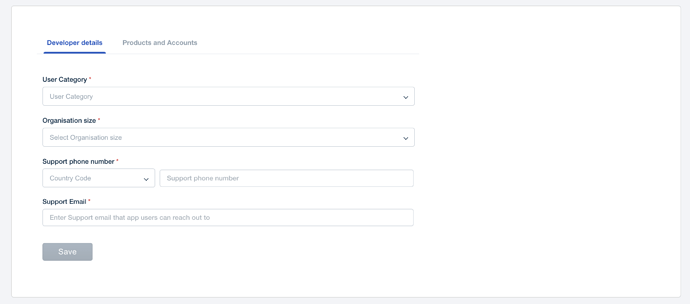 After you follow the above three steps, you can log in with the org URL/developer account and be directed to the App Management page. If you log in for the first time, you will notice the 'create new app' screen where you can start building your apps and publish them under the org.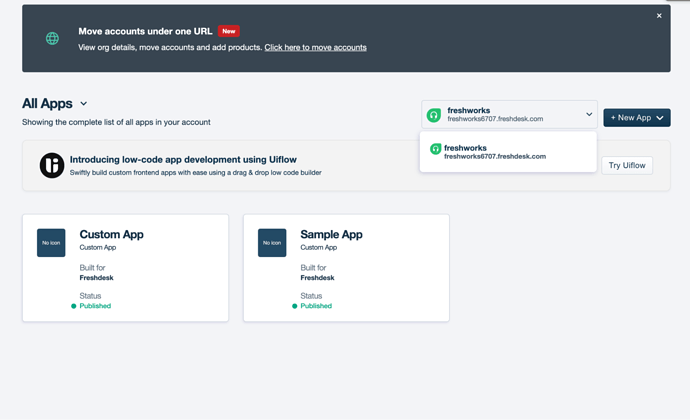 Frequently Asked Questions (FAQs)
1. How to sign up for Freshworks products from the developer account?
Developer account login allows users to sign up for multiple Freshworks products' free trials from within the portal. Once you log in to your account, navigate to the 'Products and Accounts' tab, and you will experience a single view of all our products.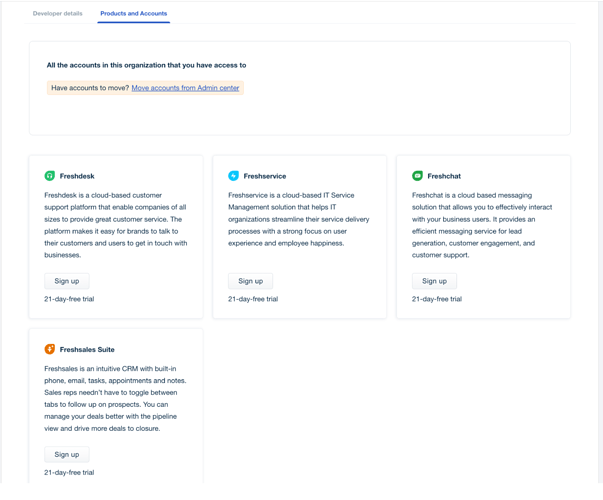 2. How to view the apps published from the developer account?
Login to your account and access App Management Portal to manage apps across the organization; you can also add multiple apps under one account. You will see all the apps associated with the domain mapped to the organization and the app status (in-development or published).
3. Is it possible to change the developer account's organization URL?
You can modify the org URL directly from the portal if you are the organization admin. This feature would help you change the URL to suit your branding or organization guidelines.
4. We have already published apps from different Freshworks product accounts. Is it possible to move them to a single developer account?
Move all your existing accounts under one Freshworks Developer Org URL without affecting or losing any existing account-level configurations & data. The account users will automatically become users of the Freshworks Developers Organization, and your app history will be intact. What's more, you can bring up to 5 account domain URLs per product (Freshdesk, Freshservice, Freshservice) into your developer Org.